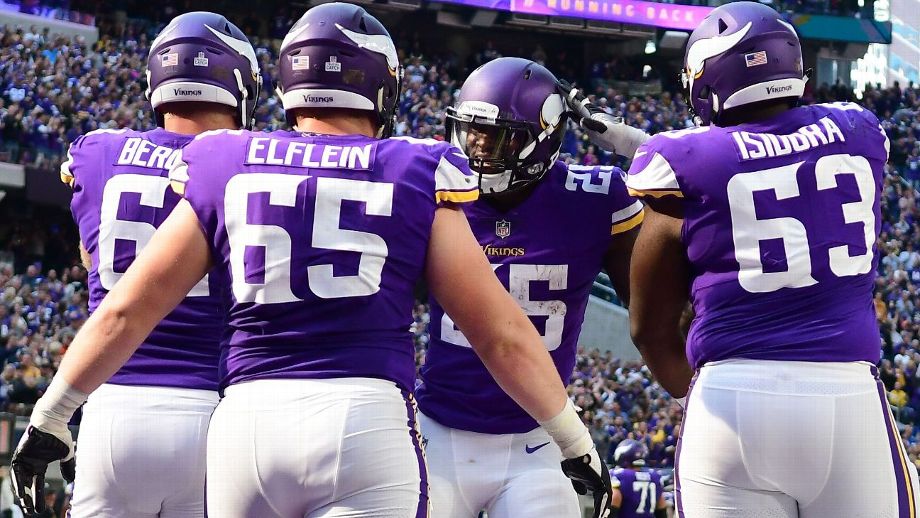 The Vikings offensive line still needs a lot of work, especially the left side.
By: Tanishka Mhaskar
Photo: Nick Wosika, Icon Sportswire
Five days after sports leagues such as the NBA, MLB, NHL, NCAA and others suspended or canceled their seasons, sports fans receive good news with the NFL sticking to their original schedule. The free agency tampering period begins tomorrow with free agency officially beginning on Wednesday, and the Vikings have a lot of holes and limited money.
An obvious position need is offensive line. After a horrendous showing in the playoffs where the Minnesota Vikings offensive line allowed six sacks, nine QB hits and a 46% pressure rate, it's clear that they need a significant amount of work.
The right side of the offensive line is set with Brian O'Neill and Josh Kline, who allowed a total of three sacks. However, as we travel to the left side it gets worse. Garrett Bradbury, the center, had an up and down year, but there were certainly some leaps and bounds by the end of the year. Seeing a few more years of Bradbury is necessary before labeling him as anything.
The left side of the offensive line is pure chaos. It doesn't help that the left side is QB Kirk Cousins' blind side. LG Pat Eflein and LT Riley Reiff have combined to give up 9 sacks last season.
Eflein gave up 38 pressures and had the worst pass-blocking efficiency of any starting guard in the NFL, per PFF. The Vikings must look into free agency to find a new OG.
Some options include Kelechi Osemele of the New York Jets and Joe Thuney of the New England Patriots. Because of the price tag Osemele is a more expected option. Osemele, who played three games last season, gave up a single sack. He also thrived in the zone-blocking system employed by the Baltimore Ravens and Gary Kubiak.
He's almost too perfect for the Vikings with his price tag (around $6-7 million a year) and his opportunity to reunite with Offensive Coordinator Gary Kubiak.
Another option is Joe Thuney, who has allowed a single sack the last season. His price tag, like Roger Saffold a year ago, seems too high for Minnesota. Anything can happen, however, and a Thuney signing would inevitably 'fix' the offensive line.
The Vikings could look to upgrade their LT position because Riley Reiff hasn't shown much of anything, however those options would have to be sufficed through the draft as Minnesota doesn't possess much money to make big moves in free agency, and this draft is deep for offensive tackles.
Minnesota needs to continue to build up front and step one is free agency.