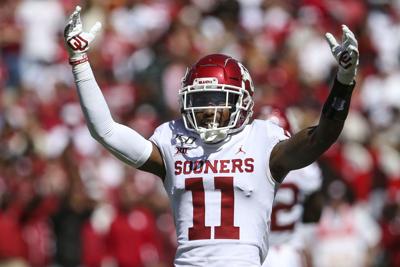 Parnell Motley, CB for the Oklahoma Sooners isn't being talked about enough as he enters the 2020 NFL Draft after an impressive college career.
Photo: Caitlyn Epes/The Daily
Every year in the draft, fans go in knowing the names of the top 80 or so players. Every year in the draft, various teams come out with late round studs. It's an inexact science, but hundreds of players emerge from the depth of the draft to become an NFL star. There are a couple of guys I think have a good chance at being a great NFL player.
McDonald had impressive production in a pass heavy offense at Hawaii. He can read defenses very well and work out progressions. McDonald is incredibly tough and isn't afraid to run, especially in the red zone. If he wants to develop into an NFL starter, McDonald needs to work on his arm strength because his balls come out as wobbly and are too ineffective to make pro throws. That being said, if McDonald has the opportunity to back up a top NFL quarterback coupled with effective coaching, he has the opportunity to become a good player.
WR- Antonio Gandy-Golden:
Gandy-Golden might just be the best offensive player that you haven't heard of in this loaded wide receiver class. He had two incredibly effective seasons at Liberty. Gandy-Golden is a big bodied jump ball and red zone threat who can make every circus catch. He shows good body control and a huge catch radius. For him to become a solid NFL starter, he must expand his route tree and work on his release to win against press coverage.
McFarland is flashy. He runs hard and makes big plays. His ability to break tackles is impressive because he can squeeze through the tiniest of holes. McFarland can help his quarterback effectively disguise fakes, and he can catch the ball well out of the backfield. When healthy, McFarland was a game changer for Maryland and has the chance to translate that to the NFL as a situational, third down back.
Harrison Bryant screams reliable. He will catch everything. Bryant isn't extremely physical, but he can and will catch through contact. Although Bryant doesn't have increasingly talented athletic ability, his technique is pristine and that will help succeed at the next level.
Clark is versatile. He can play every position on the offensive line, but in the NFL, his game is better suited at guard. Clark is a mauler, and he knows how to finish off his opponents. Clark must work on his pass protection to succeed at the next level, but he has all of the physical traits to make such a jump.
Coming from supreme NFL talent, Runyan seeks to do the same. He is observant pre-snap and, although he played at Michigan, he has the athletic ability to be scheme diverse.
Runyan's protection experience at tackle improves his draft value as a later-round, backup-caliber guard.
MOTLEY. Arguably my favorite late round draft prospect. Coming from Oklahoma, I would think that he gets more love and attention before the draft, but he wasn't even invited to the Combine. He was one of college football's most productive cornerbacks last year.
Motley allowed just 43.4% of the passes thrown his way to be caught. He was heavily tested, seeing 53 targets come his way, and although he didn't have the interception totals of other cornerbacks this year, he truly did limit big plays. In fact, the longest reception Motley allowed this year was a mere 37 yards, and he gave up only two other receptions longer than 20 yards. He was routinely tasked with following the opposing team's No.1 receiver, and he locked them down in the process.
Blackmon is a developmental starter who has the ability to become a starting strong safety due to his excelling tackling skills, size, and flashy ball skills. He shows some inconsistencies in part because he had to transition to safety from cornerback, out of necessity, and still needs time getting used to the position.
Divinity has position flexibility: he has played inside linebacker and outside linebacker, but his athleticism and pass rush talent are nothing out of the ordinary. Divinity is a productive pass rusher as he shows the strength and aggression to play through chip blocks.However many issues Divinity has had off the field, he has the opportunity to mature into a solid, versatile linebacker, assuming he gets paired with good coaching.
Jordan Elliott possesses an ability that mirrors a mix of Javon Kinlaw's pass rush and Derrick Brown's run defense. Bold, yes. He does, however, have the added bonus of excelling in both areas. Elliott is explosive on the first step, and he is impressive handling things at the line of scrimmage. He must add more counters in order to win more one on one matchups. In the NFL, at least early, he will either win one on ones or demand a double team in order to let another lineman face a one on one, and do it effectively early on.
EDGE- Alton Robinson:
Robinson has the burst in order to become disruptive. He seeks out the ball through strip sacks and is almost always in the backfield. As of now, he projects as a designated pass rusher. To become a sure fire NFL starter, Robinson must work on his pass rush counters in order to become less predictable.