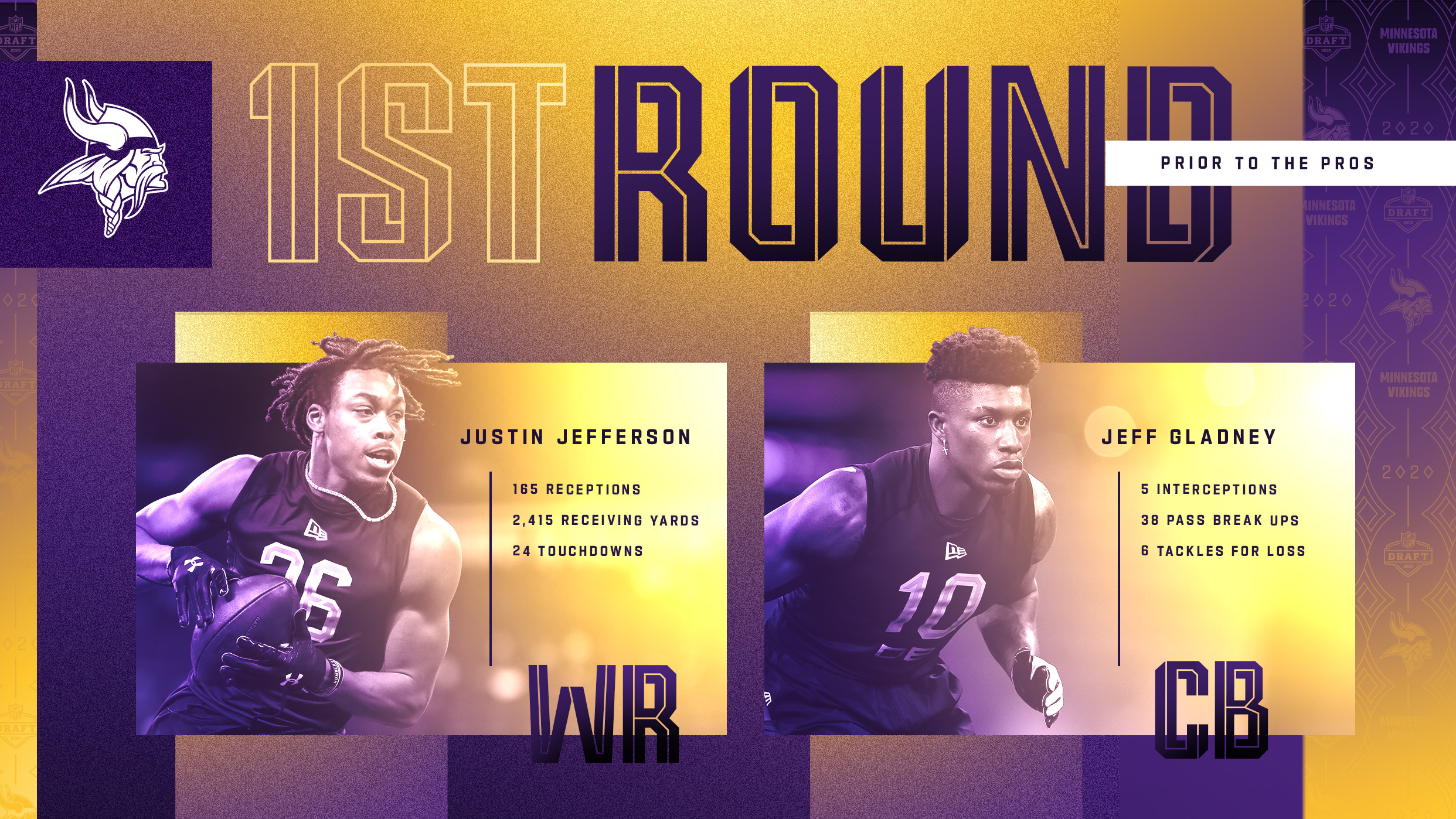 The first virtual draft in NFL history started yesterday, and it could not have begun better for the Minnesota Vikings. They selected National champio
n wide receiver Justin Jefferson out of LSU and a tough and fiesty CB in Jeff Gladney from TCU. Through this, the Vikings keep two guys in purple and get two immediate contributors.
Justin Jefferson was a player that the Vikings didn't expect to fall in their laps, but the standout wideout led all of college football with 111 catches and racked up 1,540 yards to go with 18 touchdowns. This is the best player available situation whilst filling a need. The Vikings get a player that feasts on crossing routes, and Gary Kubiak's West Coast Offense is full of them. According to head coach Mike Zimmer, Gary Kubiak "really, really liked" Justin Jefferson. Jefferson fills a void left by Diggs and brings his swagger and dance moves up North.
Minnesota traded down at 25, picking up an extra 4th and an extra 5th. At 31, they drafted Jeff Gladney. He fits Mike Zimmer's cornerback prototype, and he brings the kind of competitiveness that no Vikings CB had last year. According to analyst Dane Brugler, Gladney had 43 passes defended in college: that's more passes defended than starts (42).
Going into the second day, the Vikings need help in the trenches. They have the option of trading for Trent Williams, or trying to snag Ezra Cleveland and Josh Jones, who are still on the board. While Minnesota offered a day three pick for Trent Williams, Washington is looking for something along the premise of a mid day two pick.
Interior offensive line is also a position of need along the trenches. Only one interior player has been selected so far, and many options like Jonah Jackson, Lloyd Cushenberry II and Robert Hunt remain available for the taking.
The Vikes need a new three technique at some point. Some names to keep an eye out for are Ross Blacklock, Neville Gallimore, and Marlon Davidson, all players who could come in and start day one. Minnesota tried to trade up for a defensive tackle yesterday, I'm assuming Javon Kinlaw, so they understand how big of a need it is.
The Vikings have three picks today, but Zimmer mentioned the possibility of trading all over the place. Tune into round two of the NFL Draft at 6 PM CT today for another series of Rick Spielman trades.